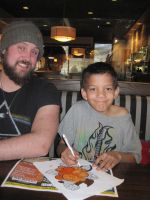 Big Brothers Big Sisters of Quesnel is busy recruiting teams for their annual Bowl for Kids Sake on Friday, April 27th. The theme for this year is "Be a Hero – Be a Big!", dress up as your favorite hero and enjoy an evening of fun, prizes and some good-natured competition! Research shows that children who have been mentored have higher self-esteem and are more likely to stay in school – empowering them to succeed, give back and realize their true potential; when you participate in Bowl for Kids Sake every dollar raised is an investment in the future of a child in Quesnel. Bowling starts at 4:30pm and team spots are still available so recruit your friends, co-workers and family members and call Joanie at 250-992-7257 to book your team's hour and a half session. We are also looking for community sponsors for this event – if your business/organization would like to contribute to making Bowl for Kids Sake a success, please call our office.
Big Brothers Big Sisters of Quesnel is celebrating some superheroes of their own – Big Brother Kat and Little Brother Dakota have been matched for two years at the end of March! That's two years of laughs, learning and building an invaluable friendship. Kat and Dakota will tell you that things don't have to be complicated to be fun – sometimes skipping rocks at the river with a friend is just what you need to put a big smile on your face. When we hear about Little Brother Dakota coming home and excitedly telling his Mom (& whoever else that he can!) about his time with Kat or watch him tell others that he's a 'Little' with great pride– we know that Kat is doing an amazing job as a rolemodel! Like most of our mentors, Big Brother Kat didn't know what to expect when he walked through the door of the little office on Vaughan Street – but what he found was a rewarding chance to make a positive difference in the life of a child and all it takes is one hour a week! Our 'Bigs' also gets to re-experience just how fun being a kid is – because who doesn't love sledding down big hills, sharing treats and laughing so hard your tummy hurts. And our 'Littles' not only get special fun time with a positive role model; mentoring is proven to increase mentee's communication skills, social skills and a whole lot more! So congrats to Kat, Dakota and all their supporters – you truly make a difference.
If you think that you would make a great 'Big' – we would love to hear from you! Please call: 250-992-7257 to find out more information. There are currently 13 boys and 12 girls on our waitlist that want to experience the joy of having a mentor!
Submitted by:
Shaina Hawn
Mentoring Coordinator
Big Brothers Big Sisters of Quesnel